ALTERNATIVE MOVIE POSTER AND LIMITED EDITIONS
A. CHRISTIE: YET ANOTHER HIT MOVIE

While Kenneth Branagh signs the latest transposition of Hercule Poirot with "A Haunting in Venice" at Soggettiva Gallery you will find the beautiful Art Deco works inspired by the English writer's masterpieces and their famous movie versions

the new exhibition
THE BIG LEBOWSKI AND THE COEN BROTHERS
THE ONGOING SHOW
WES ANDERSON CITY PALETTE

80° VENICE FILM FESTIVAL
Before "Poor Things" the Greek director Yorgos Lanthimos had already starred in Venice in 2015, when "The Favourite" earned him the Silver Lion. Olivia Colman (Coppa Volpi) also triumphed, portrayed by Nan Lawson in royal attire in the poster she dedicated to the film.
80° VENICE FIL FESTIVAL
The dreamy atmosphere and the sunset lights on the Los Angeles skyline are among the features that make the poster designed by Patrick Connan unique, inspired by La La Land, for which Emma Stone won the Volpi Cup
80° VENICE FIL FESTIVAL
Fifteen years ago Cormac McCarthy with "The Road" won the Pulitzer Prize.
Two years later, the film based on this impressive novel was presented at the Venice Film Festival.
CINEMA-POETRY

A New-Classic like AMELIE (designed by Polish artist Zebrowski) 💛
CINEMA-POETRY

Remaining in Poland, some masterpieces by the master Krzysztof Kieślowski. THREE COLORS: RED FILM ♥️

…and then the masterpieces inspired by the books of STEPHEN KING, such as the classic IT
Since 20th September 2023 the New Exhibition
ANDERSON CITY PALETTE

The exhibition, focusing on the chromatic combinations that the director is renowned for, will debut just before the arrival in the cinemas of ASTEROID CITY, the new film by Wes Anderson
Then came THE ROYAL TENENBAUMS, the story of a family father (played by Gene Hackman) who, now elderly, tries to win back the other members of the bizarre, colorful and nostalgic family. The film was critically and commercially acclaimed and was nominated for an ACADEMY AWARD.

THE LIFE ACQUATIC WITH STEVE ZISSOU tells an almost fairy story that sees Bill Murray in the guise of Captain Zissou, children's hero who, following many personal disappointments, try to make sense of his long career by hunting for a legendary sea monster.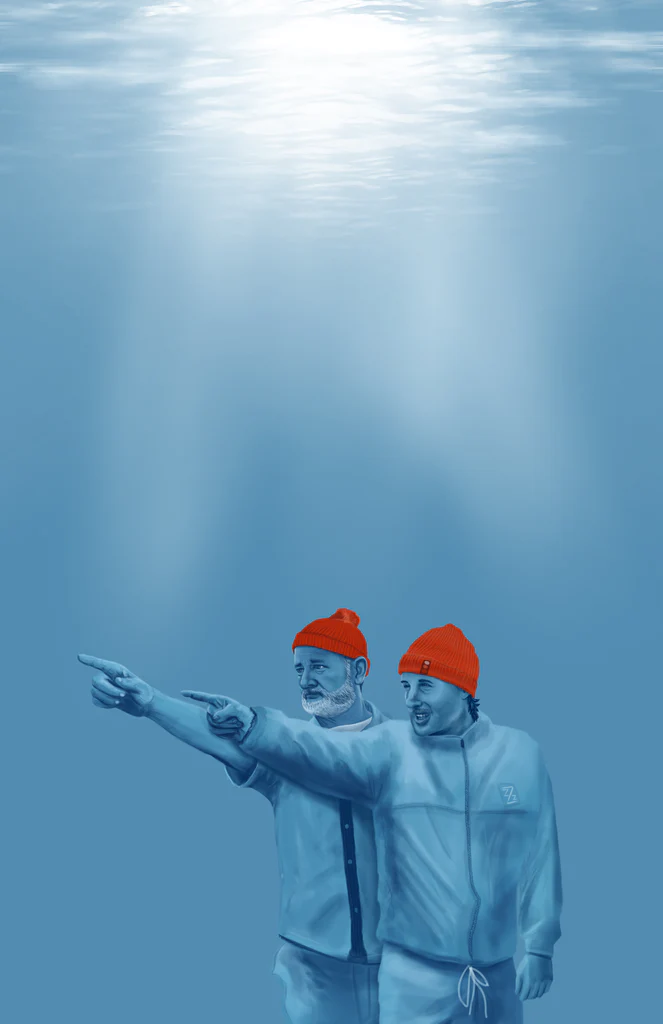 Then we hop on THE DARJEELING LIMITED, a film that follows the story of three brothers marked by the death of their father, and who try to trace the mother who left for a mission in India. The film stars Owen Wilson, Jason Schwartzman and Adrien Brody.
Then the animation with FANTASTIC MR. FOX, a stop-motion film based on a story by Roald Dahl. With this film begins what can be described as the second phase of Anderson's filmography, in which colors assume a real centrality.
Going on, a nostalgic fairy tale, set on an island apparently out of the "civilized" world.
MOONRISE KINGDOM follows the vicissitudes of two boys in their early teens. The two, madly in love, decide to escape together.
Then we go down to the GRAND BUDAPEST HOTEL, a Chinese box story that takes place in the setting of an exclusive mountain hotel in the Alps, in a tiny state of fantasy in Central-Eastern Europe. One of the director's greatest critical and audience successes, winning many awards including 4 Oscars.
He returned to the stop-motion technique for the film ISLE OF DOGS, his second animated film.
Until THE FRENCH DISPATCH "a love letter to journalists, set in the headquarters of an American magazine in a French city of the twentieth century" (Wes Anderson)